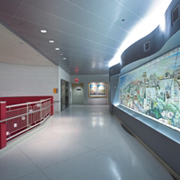 Banquet Lobby
An event at the Jewish Children's Museum is much more than the party alone.
Even before entering the elegant Banquet Hall, guests are greeted by a spacious second-floor lobby.
The area features a 20-foot original mosaic by renowned Chassidic artist Michoel Muchnik, a framed art piece by artist Michel Schwartz consisting of 387,000 letters in the Hebrew alphabet and an outdoor terrace that looks out onto the Museum's front plaza.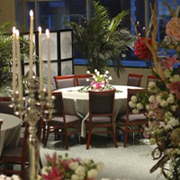 Banquet Hall
Overlooking the tree-lined Eastern Parkway, the Museum's Banquet Hall is the ideal place to celebrate bar and bat mitzvahs, engagement parties and corporate events with just the right touch of class.
A wide range of options are available including a list of exclusive caterers and event-planners to guarantee that your special occasion is treated with the ultimate in service and professionalism.